Final Day Report
Brightlingsea Sailing Club's Learning & Skills Solutions Pyefleet Week 2018 went out in style with a final day of dazzling sunshine, light to moderate southerly winds, a beach side prize giving and dancing into the early hours. The winner in just two of the ten fleets racing had been decided in advance of the final day, but even in these classes the remaining podium places went down to the wire. For the blue fleets sailing in the morning it was a light airs race with plenty of challenges including a change of tide. By the afternoon a lovely light sea breeze was established and the red fleets sailed in what were the best sailing conditions of what had already been an outstanding week's racing.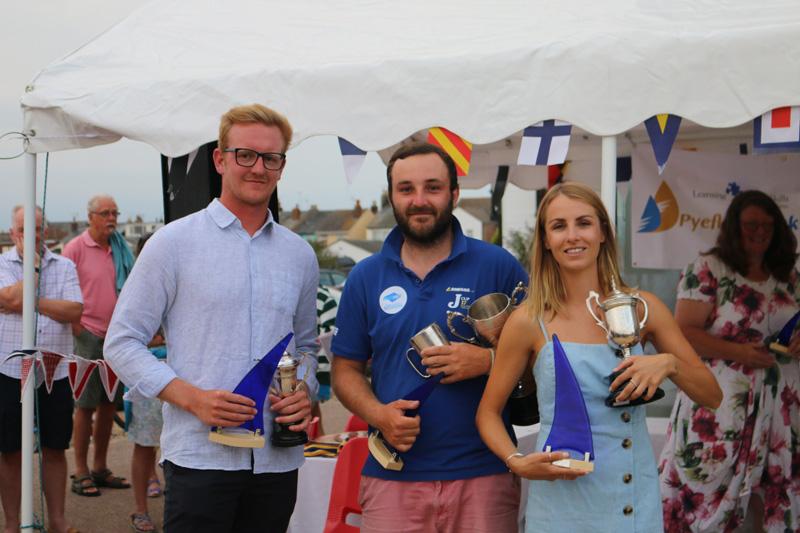 Brightlingsea One Design winners Ed Gibbons, Chris Matthews and Millie Newman - photo (c) James Stacey
Without doubt the most closely fought class of the week was the historic Brightlingsea One Designs. Chris Matthews, crewed this year by Millie Newman and Ed Gibbons, had made it onto the BOD podium on a number of previous occasions but never to the top step. Going into the last race he had a two point lead over reigning champion Clive Goodwin, crewed by Derick Gentry and Mark Schofield, with Piers Lambert, David Conlon and Sarah Bines also still firmly in contention two points behind him. From the off Matthews was determined that this year he wouldn't be the bridesmaid and by the first mark he was in the lead. Lambert and Goodwin did absolutely everything they could to get past him but he gave no quarter and sailed home to a well deserved victory. Early on Lambert had the upper hand over Goodwin, but on the final run Lambert went left, allowing Goodwin to pass him. Despite a problem with their spinnaker drop at the final mark Goodwin successfully held off Lambert to the finish.

Chris Matthews was clearly in the mood for winning as he and Sarah Bines also sailed a Merlin Rocket to victory in the Fast Handicap Class beating the Contender of Chris Bannister, with David Conlon and Ed Gibbons claiming third place in their RS800.
Three generations of the Goodwin family battle it out in the Mirrors - left to right Kaya Nawrot with grandfather Malcolm Goodwin and Anna Goodwin with father Clive - photo (c) William Stacey
In the Mirror Class mother and son team Melissa Heppell and Louis Hiscocks took the regatta with a day to spare but couldn't resist coming out for the last race anyway to make the most of the amazing weather and ensure that even their discard was a first place. Going into the last race second placed Katy Jenkins, crewed by Louis big sister Amelie Hiscocks had a single point lead over Clive Goodwin who has been crewed this week on alternate days by daughters Anna and Zoe Goodwin. Jenkins and Hiscocks took the often light and shifty morning conditions in their stride to secure their second place overall, while Team Goodwin finished fifth in the race giving them third place overall.

The Cadet Handicap final race was won by Benjamin Pearson sailing a Topaz race. Second in the race and taking victory overall were Oscar Oldfield and Tom Phillips in their RS Feva XL. Katy Jenkins was unable to sail her Optimist in the final race as she had to leave the regatta early to get to another championship, but she had sailed well enough to finish second overall with Benjamin Pearson third.
Parent and Child winners Frankie Karas and Stephen and Morgan Cross - photo (c) James Stacey

Encouraging young children to race has always been a key element of Pyefleet Week and the Parent and Child Handicap Class is another great example of this in action. As well as crewing for his 8 year old daughter Willow in the Mirror Class, Stephen Cross also took part in the Parent and Child helming his 2000 with younger daughter Morgan 6 and her friend Frankie Karas. They took a final race win to claim the series from Dave Youngs and his grandson Finlay Appleton in a Topaz Race while father and son Dave and James Herbert took third place overall in their Sprint 15.
The Laser Handicap Fleet which combines the Laser standards and radials, saw a final battle royal as Steve Williams in a standard had his work cut out to prevent Alex Clarke from getting the upper hand in his Radial. So focused on their own personal dog fight were the two that Richard Herbert in a standard was able to take his first race win of the series. Behind him Williams just managed to retain the upper hand to take second in the race and overall victory. Clarke finished third which gave him the silver medal position, one point behind Williams and two ahead of third placed Herbert.
Wivenhoe One Designs in action - photo (c) William Stacey

In the Wivenhoe One Designs Nigel Cook crewed by Julie-Anne White, and Nic Blower crewed by Micah Dougal were tied for the lead overnight with George Brown and Peter Goldsmith trailing them by two points. Sadly Blower and Dougal were unable to take part in the final race which Cook and Ward went on to win to secure overall victory. Brown and Goldsmith could do no better than third in the race which meant that Blower and Dougal were confirmed as second overall with Brown and Goldsmith taking the bronze medal.

Pete Purkiss won the RS700 Class without needing to race the last day, leaving Dave Bridle, Richard Goldklang and Simon Redfearn to battle it out for second and third. Bridle won the race and took second overall, but Goldklang was forced to retire leaving Simon Redfearn to finish second in the race and third overall.

Going into the final day four boats were still in contention in the Medium Handicap class. Pete Kyne went in leading by one point and had another great race in his Solo to secure first place overall. It was clearly a Solo kind of day as Robin Page sailed his to second place with Paul Aldridge third. But in the overall standings all eyes were on the RS Aero 7s of Ben Powell and Will Taylor who were vying for the second step of their podium. In the end Powell finished the race in sixth place ahead of ninth placed Taylor, but it wasn't quite sufficient and Taylor took second place overall with Powell third.
The Slow Handicap race was won by the Heron of Andrea Gibson and Vasso Tzomaka. Second in the race was sufficient to secure overall victory for Felix Powell in his RS Tera Pro and the Topper of Elizabeth Hill took second overall with Gibson and Tozmaka third overall.
At the prize giving Commodore Fiona Brown thanked all many volunteers who had helped make the week the huge success it was. She also paid tribute to the event's generous sponsors, Learning & Skills Solutions Ltd, Brightlingsea Boat Park & Ride, AOC (UK) Ltd, Deltech (Europe) Ltd, Little Green Storage, Chemical Release Company, Cadbury, The Press Gang and Curtis Signs, before inviting Sue Boukley of Learning & Skills Solutions to present the prizes which were announced by Race Officer Dave Gibbons.
Youngest Competitor Josie Heppell age 4 - photo (c) James Stacey
Alongside the racing prizes a number of special prizes were awarded including to the Oldest Competitor Malcolm Goodwin aged 73 years young, and the youngest competitor Josie Heppell aged just 4 years old, who had both raced in the Mirror fleet. The trophy for the most improved helm over the course of the week went to Andrea Gibson sailing her beautifully restored Heron. One of the biggest cheers of the night was saved for the winner of the famous Mire Trophy, which is awarded annually to the competitor who gets themselves into the mire in the most spectacular way. This year the Mire Trophy went to Dan, Ollie and James King for capsizing their BOD during Monday's windy opening race in truly impressive style.
Cadet Handicap winners Oscar Oldfield and Tom Philips receive their prizes from Sue Bouckley of Learning & Skills Solutions - photo (c) James Stacey
Pyefleet Week 2019 will take place from 10 to 16 August and the regatta will be preceded by the BSC Youth Regatta which will run from 7 to 9 August.
Last updated on 3 November 2022