Day 2 Racing Report
The second day of Learning & Skills Solutions Pyefleet Week 2016 was sponsored by Specialised Fixings, East Anglia's largest installer of PVC and aluminium roofline, specialist cladding products and rainwater systems. Fortunately the day sponsor's rainwater systems were not required as it was another lovely dry day with a very shifty breeze that varied between 6 and 18 knots.
Each of the fleets sailed their second race of the series while having to deal with shifts of 30 degrees and more, big holes in the wind and occasional strong extended gusts. Despite the vagaries of the wind, Race Officers Colin Willett (am), Phil Rust (pm) and Graham Eeles (Cadet Handicap) did an excellent job of getting all fleets underway on time.
The morning race group of Asymmetric Handicap, Brightlingsea One Design, Slow Handicap and Parent and Child Handicap definitely got the best of the weather with lovely warm sunshine. By the time the afternoon group of Fast Handicap, Fireball, Laser, Wivenhoe One Design, RS700 and Cadet Handicap was afloat there was full cloud cover although it was still warm and bright.


The challenging conditions certainly created opportunities for both major gains and major losses and a number of boats found themselves in parts of their fleet they don't normally see.
It was all change in the Slow Handicap Class where overnight leader Paul Aldridge sailing an OK added a fifth to yesterday's win which dropped him down into third place but on equal points with Issy Taylor-Jones and Harvey O'Sullivan who claim second place thanks to their race win today. Leading the fleet by a single point are Tim Bees and his daughters Zoe and Katie in a Laser 2000.
The RS800 of Chris Bines and David Gibbons won the Asymmetric Handicap race but having been unable to finish yesterday's race they are tenth overall. With a second in today's race the Laser 2000 of Chris and Gillian Jordan lead the class from the overnight leaders Nick Barnes and Simon Northrop/Neil Baldry whose F18 finished sixth today. There's some sibling rivalry over third place where Oliver King, crewed by Ethan Hughes in a Nacra 17, leads little brother James King, crewed by Jack Butters in a Nacra 15, by a single point.


At the top of the Brightlingsea One Design leader board Chris Matthews, crewed by Sarah Bines and Tom Kyne, and Jeremy Newman, crewed by Piers Lambert and Ian Newman, are neck and neck on three points apiece with Matthews claiming the overall lead on countback having won the day's race. Danny Fox, crewed by Bob Hedger and Tim Hearne, lies in third with a single point margin on Phil Rust, who is sailing this week with his children Jessica and Chris Rust who came second at the 2009 Mirror Worlds sailing together, while Chris won the 2008 Mirror Europeans with another crew.
The 79 year old BOD class always features a wide cross section of crews, but today it included a sea dog as little terrier Treacle joined the crew of Blue Peter with owners Graham and Claire Bridle. Claire suffers from multiple sclerosis and is confined to a wheelchair, but is able to crew the BOD thanks to the installation of a special seat that allows her to fill the middleman role. "Treacle hates being left on her own and she's been on the boat with us before so we decided to take her with us today. She loves to potter around on deck and see what's going on before the start but as soon as we are racing she just curls up for a nap." explained Claire. Fortunately the BOD rules allow for three adult crew plus an unlimited number of under 12s and it doesn't say anything about them having to be human!
The Parent and Child Class is offering some tough competition with only three points separating the leading boats, all of which are Mirrors. 1995 Mirror World Champion Clive Goodwin is leading the fleet crewed by a rotating crew of daughter Anna and niece Kaya and nephew Herbie Nawrot. Hard on his heels are Tim Ashworth with Amelia Hiscocks and Melissa Heppell crewed by Louis Hiscocks.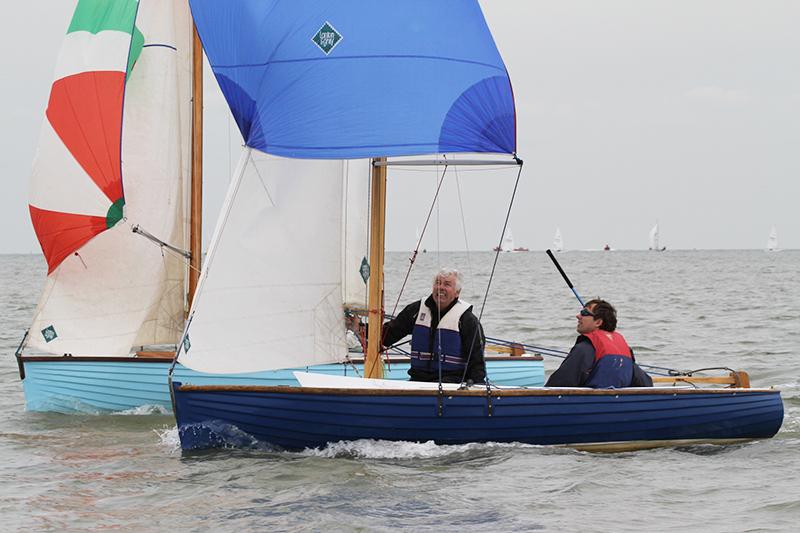 It's also neck and neck at the front of the WOD fleet where Nigel and Peter Cook and Nic Blowers and David Tournay both count three points with the Cooks getting the upper hand thanks to their second race win.  Richard Bowyer and Chris Wood are four points behind the leaders in third.
Where the fleet split allows many people opt to race on both sides of the day and as well as leading in the BOD Class, Piers Lambert leads the Fast Handicap in his Merlin Rocket crewed by Tim Bees. Just a single point behind them lie the RS300 of Edward Evans and the Contender of James Spikesly with Evans in second on countback. The race was won by Nick Barns in his A Class Cat, but he had been unable to race yesterday so is yet to make ground on the overall results.
Alan Carter and C Jessop won the second Fireball race and claim the overall class lead by three points from overnight leaders Barry and Rose Winship who found themselves on the wrong side of one of the big shifty gusts and practicing their capsize drill. Rhys Lankester and Dawn Jasper complete the Fireball overall top three going into the third day of the regatta.
Eddie Bridle got the better of an intense battle in the Laser Radial Class and now has a single point lead over Gary Pilgrim, who managed a fourth place despite being over the line and having to return. On equal points with Gary but in third overall on countback is Alexander Clarke who has just a single point cushion on fourth placed Alex Lightly.


It's equally tight at the top of the Laser Class where Chris Rust and Pete Kyne can only be separated on countback. Rust won the day's race with Kyne second and Edward Slack third, which puts Slack into third overall but on equal points with Ian Swan who finished fourth in the race.
Pete Purkis and David Bridle are slugging it out in the RS700 Class and both count just three points with Purkis's victory in today's race giving him the overall lead. John Payne was beaten into fourth on the water by Simon Redfearn, but in the overall standings Payne takes third place, four points behind the leaders.
The Cadet fleet enjoyed more fantastically close racing on a specially laid windward leeward course off the club which allowed friends and family to enjoy the spectacle. It's a joy to watch so many youngsters developing their racing skills through this special class which is organised by the parents themselves led by Brightlingsea Sailing Club's volunteer Cadet Coach Graham Eeles. At the time of writing the results for this class were yet to be published, but results only tell part of the story. Watching the joy on a young sailor's face as they gain a place on their nearest rival or make it safely through a gusty gybe when they went into it convinced disaster lay ahead is all that's needed to confirm the importance of this element of the regatta.


Apres sailing the competitors came together for the infamous BOD Night, which this year featured an Irish theme. A superb Lamb Shank and Baileys Cheesecake supper was prepared by the galley volunteers led by Vice Commodore House Marianne White, whose husband Mark and daughter Georgina both race in the BOD Class. After dinner the tables were cleared away for dancing to live Irish band Maximum Ceili and the craic was most certainly mighty.
The forecast for day three of the regatta, which is sponsored by CB Rigging, is likely to start with rain but should dry up by the time of the first starts.  The wind is due to be in the south west and range from 10 to 19 knots.
Looking ahead to AOC and Just Trays Big Wednesday, when the fleet will come together for a special all in handicap race which does not count towards the week's points, the Race Committee has announced a change of start time to 13.00 (not 14.30 as published in the programme). The forecast for Wednesday is for quite blustery conditions and so the race has been brought forward to start half an hour before high tide enabling it to be run over slack water whilst seas will be less rough.
The change is the start time for the Big Wednesday Race also means a change in start time for the week's most important event – The Crabbing Competition, which will now start at 13.30. Those wishing to take part should register with Ali just outside the Race Office from 1pm. Entry is £1 and there are lots of prizes to be won.
Racing continues until Saturday 6 August. Further information about the event including full results can be found at www.pyefleetweek.com
Follow all the latest news and information at: