Day 6 Race Report
After three days of windy conditions, ARP and Specialised Fixings Friday brought a change of pace to the penultimate day of Brightlingsea Sailing Club's Learning & Skills Solutions Pyefleet Week. All fleets were able to race in glorious sunshine and light and at times very challenging westerly winds.It was also family fun day so as well as all the on water activity there was plenty for the youngsters ashore too with Magic Olly keeping the kids enthralled throughout the afternoon with live magic sessions and Zenith Kiting providing stand up paddle boards for taster sessions too. After sailing everyone came together for a fantastic Beach BBQ and Games Night where the inter-fleet tug of war came down to a final between the youngsters of the Laser Fleet and the oldies of the Brightlingsea One Design Fleet. On paper the BODs looked good having weight and experience behind them, but it was youth that won the day with the Laser Fleet out pulling their elders.
The light winds meant long race times for all and the afternoon session had to be slightly postponed to allow the morning session to finish. Pyefleet Week has a great tradition of volunteer race management and the classes are split into two groups, racing on opposite sides of the day so that the sailors can provide the necessary race committee and rescue boat personnel on the half of the day they aren't sailing.
With only one more day of racing to come many of the fleets are all set for an exciting final showdown. The 22 strong Cadet Handicap has been exciting to watch all week and today was no exception. With five races now completed Issy Taylor-Jones and Harvey O'Sullivan lead the fleet in their RS Feva by a single point from Oliver Johnson in his RS Tera Pro and it will be a two way battle between them for fleet honours. The leaders have a nine point cushion on their nearest rivals and cannot be caught but the battle for third will be close too with only four points separating Charlotte Bate's Topaz, Elizabeth Hill's Topper, Amelia Hiscock's Optimist, Brooke Hastings and Harry McTiernan, who are both sailing RS Tera Sports, and the Topaz of Rupert Eddy.
In the Fast Handicap Fleet Piers Lambert and Tim Bees sailing a Merlin Rocket hold an 1.7 point lead over the Contender of James Spikesly with Edward Evans' RS300 0.3 points behind in third and Chris Bannister's Contender 0.7 points further adrift in fourth.
Throughout the week the Laser Fleet has been a two way battle between Pete Kyne and Chris Rust. Kyne won today's race giving him a single point lead over Rust who faltered today, only finishing sixth, his worst result of the regatta. Five points behind Rust lies Steve Williams with Ian Swann fourth and Ed Slack fifth.
Eddie Bridle took second in today's Laser Radial race and now has overall victory sewn up with a day to spare as he has a three point lead over nearest rival Alexander Clark, who won today's race, and is discarding a third place. Gary Pilgrim and Tom Kyne are both just three points behind Clark so not only will the be fighting each other for the final step on the podium but they will be hoping Clark falters and gives one of them them the chance to leapfrog him for second place.
Alan Carter and C Jessop have won the Fireball fleet with a race to spare from Roger Etherington and Jo Adams who are confident of second place, while Barrie and Rose Winship and Ryhs Lankester and Dawn Jasper will fight it out for third place.
The race results of Nic Blower and David Tournay first, Nigel and Peter Cook Second and Rob Maloney and Peter Goldsmith third in race five mirrors the overall positions in the Wivenhoe One Design Fleet. Only a point now separates the leading pair so they will enjoy a fight to the finish in the final race while Maloney is assured of third place.
The high tide and a westerly wind made it possible for the afternoon starts to be run for the Club Line making for a fantastic spectacle as the boats took off just feet from the spectators lining the Promenade.
First away was the Asymmetric fleet where Ben Clegg and Abi Embser-Kay sailed their RS200 to race victory. Second in the race was the Laser 2000 of Nigel Edmunds and Kerri Forster with Rebecca Bines and Sam Fisher third in their RS200. Fleet leaders Chris and Gillian Jordan sailing a Laser 2000 struggled in the very light conditions and found themselves finishing in fifth, their worst results of the regatta. Overall the Jordans retain a two point lead over the RS800 of Chris Bines and David Gibbons with Edmunds a single point back in third.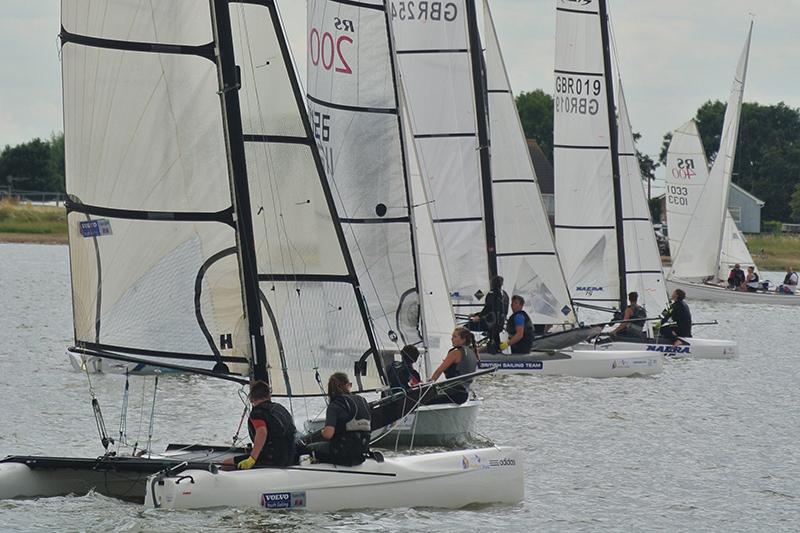 The 21 strong Brightlingsea One Design fleet got a bit carried away with their first attempt at starting and had to have another try giving the spectators double value. Once underway Jeremy Newman, Piers Lambert and Ian Newman in Avocet gave a master class in light airs sailing to secure both the race and the class overall. Second and third in the race were Danny Fox, Bob Hedger and Trevor Stone in Egret and Geoff Gritton, Derek Clark and Chris Smith in Never Say Never. Overall the final day will be a three way battle for the remaining podium places between second placed Chris Matthews, Sarah Bines and Tom Kyne in Rebel on six points, the Egret boys on nine points and Phil, Jessica and Chris Rust in Dulcet on 10 points.
The Parent & Child fleet race results mirrored their overall results with Melissa Heppell and Louis Hiscocks first, Clive Goodwin and his rolling crew of Anna Goodwin/Kaya Nawrot/Herbie Nawrot second and Tim Ashworth and Amelie Hiscocks third, all sailing Mirrors. Just two points separate the three boats so the final day will produce a great showdown.
Paul Aldride and his OK won the race in the Slow Handicap fleet which he now leads by a single point margin from Archie Pen and Ben Warrington's 420. Fellow 420 sailors Lucy Corby and James Hague, and Tim, Zoe and Katie Bees are both just a single point behind Penn with all four boats being in contention for class victory.
The forecast for Saturday's final day of racing is for another glorious light airs day so we can expect a spectacular conclusion to what has been a terrific regatta. Further information about the event including full results can be found at www.pyefleetweek.com
Follow all the latest news and information at: